West Country - Forest of Dean - Yorkley (nr Lydney)
No.2 Danby Cottages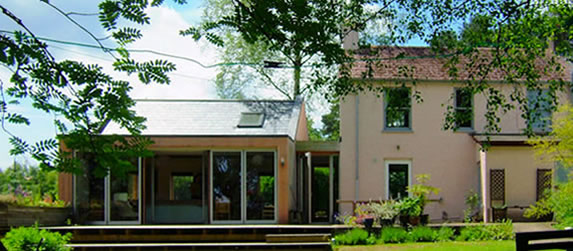 Set deep in the heart of the forest, this cottage has been completely modernised.
It is spacious, comfortable in all seasons (central heating and log-burning stoves), welcoming to disabled people (one of the owners uses a wheelchair), families, pets, and older people all in a way that respects the environment.
We have been awarded four stars, Mobility 2 by Visit Britain, and a gold rating by Green Tourism Business Scheme.
There is one bedroom downstairs with wet-room, and two upstairs with shared bathroom, and a generous living room with folding glass doors opening onto decking and a large garden.
Originally one of a pair of forester's cottages, set deep in the forest but only half a mile from Yorkley village with two shops, a Health Centre and bus stop.
No 2 has been in the hands of the same family since 1976. Recently a complete rehabilitation was undertaken, including the addition of an entirely new (6m x6m) living/dining room and an accessible bedroom with en-suite wet room. A ceiling hoist has been installed in this bedroom and will shortly be installed in the wet room too
No.2 Danby Cottages
Yorkley
(Nr Lydney)
Gloucestershire
GL15 4SL
For more info please contact:
No.2 Danby Cottages
Tel: 0117 942 2301
Mob: 07766 450422
By Mail:
2 Danby Cottages
c/o 23 Cotham Road South
Bristol
BS6 5TZ
E-mail: This email address is being protected from spambots. You need JavaScript enabled to view it.
Click on any image to view a larger photo
** Remember to take your own sling! ** Most accommodation providers do not provide you with a sling for hygiene reasons so remember to take along your own and be comfortable in something you are used to. Most slings are'universal' fitting but if you are not sure please contact the accommodation provider.
Have you stayed here?
If you have stayed here why not write a review for CHuC and share your experiences, good or bad, with other hoist users?
Write a review using the form below. There is no need to register but all reviews are moderated before being published

April 2018