IN MEMORY OF SUE
The inspiration behind CHuC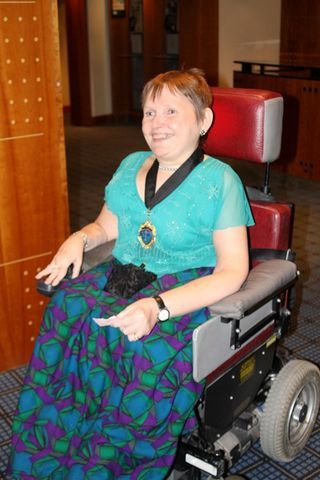 Sue Maynard Campbell MBE BAHons Solicitor
Managing Director of Equal Ability CIC
1952 - 2008
We deeply regret to announce that Sue Maynard Campbell passed away in St James's Hospital, Leeds, on 21 May 2008. Her passing was both peaceful and dignified. Sue was the driving force behind CHuC and as a ceiling track hoist user herself had a keen interest in trying to encourage accommodation providers to install these facilities in their premises. Her work with Intercontinental Hotels Group has shown that there is a business case for these hoists and she was hoping to encourage more hotel chains to install them.
Sue was also Managing Director of Equal Ability CIC which is one of the UK's leading disability consultancies providing training and consultancy for government departments, academic institutions and private enterprises. Sue was a qualified solicitor and Chair of the Group for Solicitors with Disabilities (GSD) from 2004. The photo above was taken at the Holiday Inn Bloomsbury in February during the GSD Conference 2008. Sue received an MBE from The Queen in 2002 for her services to disabled people. She was also the grand-daughter of Charles Gordon Maynard, inventor of Maynards Wine Gums, a fact of which Sue was very proud.
The CHuC website will continue to be a source for everything ceiling hoist related and her spirit will drive us forward. She will be missed by her family, friends and colleagues and will be remembered for her achievements and sheer determination. Sue was an inspiration to us all.
Sue's funeral for family and close friends took place on Friday 30 May and there was a memorial celebration held at The Holiday Inn, Bloomsbury in London on Saturday 4th October 2008 at 1pm.
A collection for St James' Hospital Leeds (Jimmys) in memory of Sue
www.justgiving.com/SueMaynardCampbell
Sue's family and friends presented St James' Hospital with a LightWriter communications device which was purchased with the money from the collection.