Wales - Pembrokeshire
Hampton Court Holiday Park, Pembrokeshire
Hampton Court Holiday Park is a small friendly family run holiday park set in the heart of the beautiful area of Pembrokeshire and the Pembrokeshire Coast National Park in West Wales.
The Park itself is about six miles from the harbour town of Saundersfoot and about 3 miles from the market town of Narberth whilst the Pembrokeshire county town of Haverfordwest is thirteen miles. So we are conveniently located to explore the area and take in the various views whether you wish to do so by wheelchair on one of the ever increasing accessible footways or simply enjoying some fish and chips in your car on the harbour front at Saundersfoot whilst watching the boats come in with the tide.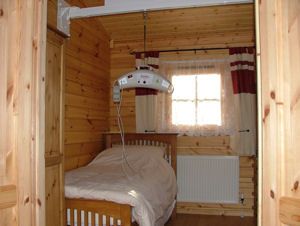 The park is owned and run by us the Russ family. We live on the park with our children one of whom is profoundly disabled and a wheelchair user and it is this reason we decided to start catering for the disabled holiday market. We realised that as our son gets older and bigger it has become very difficult if not impossible to find truly accessible accommodation to go on holiday in and most importantly that there do not appear to be many places offering the facilities my family and I need in a "normal and inclusive setting".
We decided we were in a unique position to try and do something about this and so designed the log cabin we are currently offering for hire as a holiday destination on a holiday park with other holiday makers but in accommodation built (not adapted) for the wheelchair user. We have equipped the cabin with a variety of things that we think will be of use to a lot of wheelchair users particularly those who require carer assisted hoisting.

Peter Russ

Hampton Court Holiday Park
Templeton
Narberth
Pembrokeshire
SA67 8SD

01834 861618

This email address is being protected from spambots. You need JavaScript enabled to view it.

www.wheelchairaccessholidays.co.uk
** Remember to take your own sling! ** Most accommodation providers do not provide you with a sling for hygiene reasons so remember to take along your own and be comfortable in something you are used to. Most slings are'universal' fitting but if you are not sure please contact the accommodation provider.
Have you stayed here?
If you have stayed here why not write a review for CHuC and share your experiences, good or bad, with other hoist users?
Write a review using the form below. There is no need to register but all reviews are moderated before being published