First hand experience from a recent trip to a hotel without ceiling hoist facilities.
The Mobile Hoist Saga Begins ...
I was recently invited to speak at a conference and had to stay in Scotland in a city where there are no hotels with ceiling track hoists (not difficult as there is only one – London). The organisation inviting me arranged the accommodation and hired a mobile hoist for me. However, I normally go away to London with one PA, but with a mobile hoist two PAs are needed, with additional costs in travel, accommodation, and food, not to mention wages.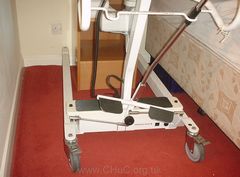 The hire company was keen to have confirmation that my "carers" had been trained to use the hoist but made no mention of the clearance needed under the bed. I fortunately rang the organisers to get the situation checked and the hotel Duty Manager agreed to sort out what to do when I arrived, but I was not made aware of this.
When, after train delays, we eventually arrived after 9.30 pm, tired and unfed, I was distressed to realise that not only had the hoist been put in a double room (I had specifically asked for a twin so one PA could sleep with me) but there was no under-bed clearance. The Duty Manager (not the one who had made the previous arrangement) agreed that we could move to a twin accessible room which was smaller, and while we went down to the bar the bed was put up on 4 beer crates.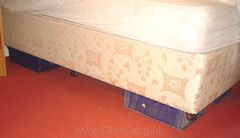 This worked OK until in the morning one was pushed out of position when manoeuvring to get me out of the bed, but fortunately I was not returning to bed again. Manoeuvring space was very limited indeed. In order to get into the bathroom, I had to be manoeuvred first over a small but difficult threshold and then over the basin, and while being lowered on to the loo the hoist got caught on a shelf despite the best efforts of both PAs.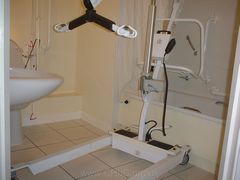 The hoist worked OK, but because I need to be the one in control of my up and down movement, and hoists are designed for "carer" use, the control plug worked loose, and for a while I was stranded in the air until my engineering skills diagnosed the fault!
All this reinforced for me the problems of a mobile hoist, and the benefits of ceiling track installations.
SueMC
Sept 2007
Photos from the Nameless Scottish Hotel
Click on the main photo to view a full size image in a new browser window
The perils continue....
More problems with mobile hoists - this time we didn't even get to the hotel!

We were booked into a Conference Centre near Buckingham for a social dinner with overnight accommodation to allow everyone to relax and enjoy the evening. In order to ensure that all appropriate arrangements were in place we arranged to visit the venue to view the accessible rooms 3 weeks ahead of the event. Plenty of time for them to sort out the reasonable adjustments we asked for - or so we thought... Notes were made at the time of the visit and a follow up e-mail confirming these early the next week.
One week to go and nothing had been heard. Another e-mail to ask what was happening....and a deafening silence until the Wednesday afternoon before the event on Saturday.
One thing we had asked for was at least 15cm clearance under the bed for the mobile hoist. One of the other things was a plastic bowl as the wash basin in the accessible bathroom had all the pipe work boxed in which makes it look really nice and tidy - but try getting your legs under it in a wheelchair! It was agreed they would hire in a bed with suitable clearance underneath and provide all the other requests.
Thursday - nothing heard so we assumed all was well.
Friday 4pm. Received a link to a hotel bed hire company to ask if this was suitable. When we looked on the link it was a single fold up bed - the sort of thing you would keep in the cupboard for unexpected guests or even deploy in a church hall in the event of a disaster. Not only that but it had a double set of wheels in the middle which would have made manoeuvring the mobile hoist extremely difficult and they were going to leave the existing double bed in the room for my partner. I'm just not sure where the wheelchair and the mobile hoist would have gone in a room which wasn't too generous in proportions in the first place.

To cut a long story very short, at 6pm on the Friday night just 25 hours before the dinner we decided enough was enough and cancelled the whole thing. We may have coped without the plastic bowl but the bed was a fundamental requirement. In ordinary circumstances we wouldn't have visited in advance and would have just requested the adjustments by e-mail or phone. In this case after travelling 150 miles we would have ended up with a totally unsuitable bed which just wouldn't have worked with a mobile hoist.
Our first entry in this chronicle of disasters led to sleeping on a bed propped up on beer crates and this second one simply led to no bed at all. Come on everyone offering away from home accommodation - think about installing at least one transportable ceiling track hoist in an accessible room to stop these fiascos happening. The business is out there - if you install a hoist then people who need them will come and stay...
SueMC & SC
Nov 2007