South – Hampshire – Lymington
Bench Cottage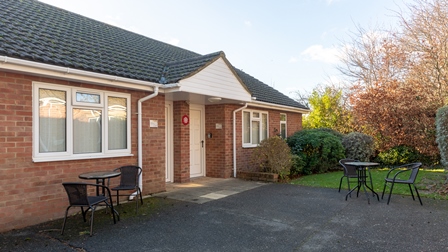 Bench Cottage is a semi detached bungalow providing self catering holiday accommodation on the outskirts of Lymington, just 2 miles from the New Forest National Park. It is purpose built holiday accommodation, furnished with all those home from home touches that help make your holiday easy and relaxing.
Bench Cottage has a ceiling hoist available in the master bedroom which can be used with the height adjustable profiling bed and the second bed with is electric head and foot riser bed. There second bedroom also has twin electric head and foot riser beds. There is a riser recliner chair, central heating, off road parking and free Wifi as standard.
Bench Cottage now has a second ceiling hoist added to the bathroom and a changing table, to make it easier for our disabled guests.
Portable hoist, shower chair and additional mobility equipment also available on request.
All the accommodation is on ground floor, with level access through out - Bench Cottage sleeps up to 4 guests – an access statement and 360 tour of the property is available online.
Bench Cottage is an ideal base for the New Forest, Hampshire and Dorset. Fantastic day trips include trips to the Isle of Wight, Portsmouth, Southampton, Salisbury, Bournemouth and Winchester. There are lots of places to visit nearby from theme parks to ornamental gardens, crazy golf to museums and more.
For more info please contact:
Helen and Matt Renouf
Mob: 07751 064167
E-mail: This email address is being protected from spambots. You need JavaScript enabled to view it.
Web: www.ourbench.co.uk
Twitter: @HoistHolidays
Facebook: @NewForestAccessibleHolidays
Click on any image to view a larger photo
** Remember to take your own sling! ** Most accommodation providers do not provide you with a sling for hygiene reasons so remember to take along your own and be comfortable in something you are used to. Most slings are'universal' fitting but if you are not sure please contact the accommodation provider.
Have you stayed here?
If you have stayed here why not write a review for CHuC and share your experiences, good or bad, with other hoist users?
Write a review using the form below. There is no need to register but all reviews are moderated before being published

January 2019