London - Islington - Archway
London Archway Premier Inn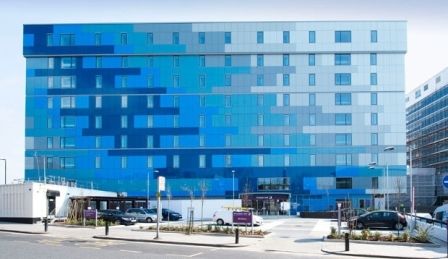 The recently opened London Archway Premier Inn has 9 accessible rooms with ceiling hoists available. Yes, you read it correctly...9 ceiling hoist rooms!
The hotel offers 16 accessible bedrooms
8 accessible rooms have ceiling track hoists and ensuite bathrooms with wet-rooms.
1 accessible room has a ceiling track hoist and ensuite bathroom with a lowered bath.
1 accessible room has an ensuite bathroom with a wet-room.
6 accessible rooms have ensuite bathrooms with lowered baths.
Of the 9 accessible rooms with ceiling track hoists, 7 with wet rooms have X-Y type hoist in the bedroom which will move you anywhere within the room and this meets through a gateway with a track in the bathroom which goes over the toilet and shower. The 8th room with a ceiling track hoist and a wet room has an X-Y type hoist within the bedroom but a separate track in the bathroom over the toilet and shower. The room with the hoist and lowered bath has an X-Y type hoist in the bedroom connected via a gateway to a track in the bathroom which goes over the toilet and bath.
Premier Inn's accessible rooms have 6ft 'zip & link' beds. These allow the room to be set up as either a double or twin room, thereby providing flexibility for their guests.
This hotel does not provide slings for guests who use the ceiling track hoists. Please remember to bring along your own sling.
For more info please contact:
London Archway Premier Inn
Hamlyn House
Macdonald Road
London
N19 5DD
Tel: 0208 102 8717
Web: www.premierinn.com
Click on any image to view a larger photo
More photos to come shortly
CHuC would like to congratulate Premier Inn for this amazing achievement. Should it be in the Guinness Book of Records? Is there any mainstream hotel anywhere in the world with as many accessible rooms with ceiling hoists? Well done Premier Inn!
06 July 2016
** Remember to take your own sling! ** Most accommodation providers do not provide you with a sling for hygiene reasons so remember to take along your own and be comfortable in something you are used to. Most slings are'universal' fitting but if you are not sure please contact the accommodation provider.
Have you stayed here?
If you have stayed here why not write a review for CHuC and share your experiences, good or bad, with other hoist users?
Write a review using the form below. There is no need to register but all reviews are moderated before being published

Reviews for Premier Inn Archway
Name: Kevin
Date of visit: 08/19
I am a manager of a care home for younger adults with physical disabilities in Somerset. I am so grateful to this hotel for supplying so many overhead hoists in their rooms it made a trip to London for my clients so much easier and more comfortable for my staff. Congratulations to Premier Inn they deserve commending for the effort made that makes access for people with disabilities in their hotel.
Name: Cooper
Date of visit: 28-30 Dec 2017
Plenty of room for transfer with the hoist from wheelchair to the bed, the mattress was really comfortable. No automatic doors once your inside so does require some manoeuvring to get through the internal doors. Food was fantastic and overall service excellent, would stay again 100%
Name: Clark
Date of visit: 14 Dec 2017
Fantastic!!!! Well done premier inn please please try and upgrade all your hotels to have some rooms with celling hoists.
I stayed in the room with the hoist over bath. So well thought out. Great to be able to have a bath. At home I self hoist so the one little think was I need to be pushed by carer a it is only electronic up and down.
Have a great stay we did.
They have bed blocks too raise bed if you ask.
Name:Zak
Date of visit: August 2017
Fabulous! Comfortable! Great facilities! Disabled parking. Can't fault it - please put more ceiling track hoists and accessible roll in showers in your nationwide hotels Premier!