North West - Lancashire - Blackpool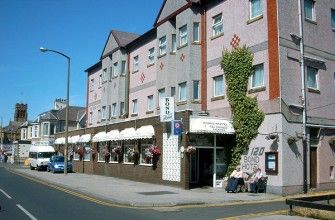 The Bond Hotel, Blackpool
ABOUT US
A holiday should not be restricted by your disability. At The Bond Hotel our priority is taking care of the practical sides of your break whilst providing a comfortable and homely environment. Being the largest disability hotel in the UK our renowned service and customer care is reflected in the outstanding quality and enjoyable holidays our guests experience.
With amazing cabaret every night of the year, delicious home cooked meals and situated minutes from Blackpool's famous attractions. The Bond Hotel offers a unique and enjoyable holiday all year round.
For over 25 years The Bond Hotel has specialised in holidays for guests with physical, learning disabilities and guests with mental health concerns. Our dedicated, highly trained team will ensure that every need is taken care of. From the moment you make that very first telephone call we assure you the highest level of customer service throughout your holiday.
We have 62 bedrooms at The Bond Hotel with wet floor showers in the ensuite, free use of any mobility equipment you may need and bedrooms are fitted with a 24-hour emergency call system.
OUR ROOMS
We have single, twin and triple bedrooms along with a selection of adjoining suites that range in size sleeping between 3 and 6 people, all fully wheelchair accessible and designed with access as a top priority.
All bedrooms have tea and coffee making facilities, large flat screen televisions and free guest Wi-Fi is available throughout the hotel. There is lift access to every floor of the hotel, with bedrooms located on 3 floors.
When you are making your booking simply discuss your sleeping arrangements and any mobility equipment you may need with our reservation team and they will find the best rooms to meet your needs.
ENTERTAINMENT
Evenings at The Bond Hotel are jam packed with entertainment from our cabaret team ready to help you dance the nights away, in full Blackpool style!
With 2 acts performing every night of the year as well as our twice weekly fancy dress competitions where the winner takes home a free return holiday, karaoke nights, nightly cash bingo and raffles there is something for everyone here at The Bond Hotel.
Whether you are looking for a spring break with some of our great tribute acts and themes, summer sunshine fun by the seaside, a trip down the golden mile through Blackpool Illuminations or festive fun for the Christmas season we hope you enjoy our fantastic line up.
MEALS
At The Bond Hotel we recognise that quality home cooked meals are an essential part of your holiday, our head chef is committed to serving only the most delicious food our guests deserve, all of our breaks include breakfast and evening meals.
Every morning you are greeted with a choice of Continental or Full English Breakfast, ready to fill you up for the day ahead. Lunch is served in the hotel, if required with 2 main meals available for just £10.
There is a wide choice of food available for our evening meals which always include a vegetarian option. With table service and self-service available to keep your dining experience as flexible as possible.
We can cater for all dietary requirements including consistency, allergies and additional needs. All food allergies can be easily catered for just mention any special requirement during your booking and we will ensure your needs are met.
HOLIDAYS WITH CARE
So that we can cater for all our guests we are aware that sometimes they may need support during their stay for personal or social care needs. Running alongside the hotel we can also provide tailor made care support from our Holidays With Care team who are registered with the CQC. Our care manager can discuss your needs and provide you with the support you may need.
Our packages can be booked from as little as 1 hour right up to 24 hours including support through the day and the evening if required. The cost of our care support is:
Day Time (7am-midnight) £16 per hour per carer
Waking Watch (10pm-8am) £160 per night per carer
Sleeping Watch (10pm-8am) £110 per night plus room cost
Bank holidays are charged at double rate
TRANSPORT
Take the pressure and stress out of driving with our door to door transportation service. Transport can be arranged at an extra cost from anywhere in the UK, allowing your holiday to begin that little bit sooner. Ask a member of our team for more information.
The vehicles used are all fully adapted to cater for wheelchair users. Drivers are all Midas qualified and vehicles range from 3 to 51 seats. Journeys are priced individually based on the mileage covered.
MOBILITY AIDS
We have a very wide range of mobility aids available to use during your stay, the following items can be added free of charge to your reservation.
Ceiling Track Hoists
Portable Hoists
Electric Profiling Beds (with pressure relief mattresses and air mattress available)
Bed Rails (with or without bumpers)
Stand Aids
Rotundas
Shower Chairs & Reclining Shower Chairs
Shower Trolley
Lifting Poles
Bed Levers
Commodes
Kylies
Raised Toilet Seats
Toilet Frames
Room to Room Monitors
Secure Medication Boxes
ADDITIONAL SERVICES
For a small additional charge the following items are available:
Manual Wheelchairs - £6 per day
Scooters - £15 per day
Air Mattresses - £15 per night
In House Laundry Service £8 per bag
Clinical Waste Disposal - £2.75 per bag
HOTEL FACILITIES
24 Hour nurse call system
LIVE Cabaret every night
FREE Use of mobility aids
FREE car park
FREE Wi-Fi
Door to door transport
Care packages and respite breaks available (registered with CQC)
Specialist diet chef
All-inclusive upgrades available on any break
Fully accessible lounge and dining areas
Wet floor showers
Lift to every floor
Monitors
Laundry service
Adjoining bedrooms & family suites
Wheelchair & scooter hire available
The Bond Hotel
120 Bond Street
Blackpool
Lancashire
FY4 1HG
Tel: 01253 341218
Website: www.bondhotel.co.uk
Special Offer for CHuC website users: The Bond Hotel will give a discount of £20 per person off your visit to the hotel. Just quote "CHuC" when booking.
Click on any of the images above to view a full size picture in a pop-up window.
** Remember to take your own sling! ** Most accommodation providers do not provide you with a sling for hygiene reasons so remember to take along your own and be comfortable in something you are used to. Most slings are'universal' fitting but if you are not sure please contact the accommodation provider.
Have you stayed here?
If you have stayed here why not write a review for CHuC and share your experiences, good or bad, with other hoist users?
Write a review using the form below. There is no need to register but all reviews are moderated before being published