USA - Florida - Orlando
Tranquillity Villa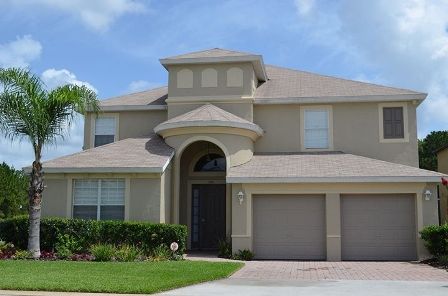 Beautiful luxury 6 bedroom/4bathroom holiday villa that is without equal. One of the most luxurious holiday homes in Orlando, Florida. Designed to provide a perfect setting for a dream holiday, sleeping up to 12 guests. The villa incorporates facilities to enable our disabled guests to stay with ease and have a wonderful experience. This private luxury villa is situated in a new gated community in the Davenport area. The villa backs onto a conservation area and small lake. The villa has been built to accommodate all holiday makers regardless of their physical ability. Disney World is just a 10 minute drive from the villa, Sea World and Universal Studios are 20 minutes away, Kennedy Space Center and the coasts are within easy reach. Features for our disabled guests include widened doors on the ground floor, level access to all external doors and a specially adapted bathroom with wheel-in shower, shower seat, Toto toilet/bidet drop down grab bars and plenty of space for transfer. To make your stay even easier we have installed a fully electric ceiling track hoist in the master suite between bedroom and bathroom and an electric profiling bed with height adjustment. The covered pool area includes a wide pool deck for safe and easy wheelchair use and an electric pool hoist which is positioned to allow access to both the 28ft X 14ft pool and the spa.
Click on any image below to view a larger picture
Website: www.tranquilityflorida.com/
Tel: (+44) (0)1372 451663
** Remember to take your own sling! ** Most accommodation providers do not provide you with a sling for hygiene reasons so remember to take along your own and be comfortable in something you are used to. Most slings are'universal' fitting but if you are not sure please contact the accommodation provider.
Have you stayed here?
If you have stayed here why not write a review for CHuC and share your experiences, good or bad, with other hoist users?
Write a review using the
form below

. There is no need to register but all reviews are moderated before being published

Submit a review

Submit a review of accommodation listed on CHuC