UK Hotels - South West England
Details
South West - Trebetherick
St Moritz Hotel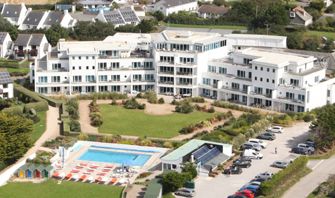 Just across the Camel River from Padstow is the St Moritz Hotel in Trebetherick on the North Cornwall coast. They have a fully accessible suite available with a double bedroom fitted with a Chiltern Invadex ceiling hoist with a track from the bed to the bath and toilet. The bathroom has a Limalift electric toilet. The suite also has an accessible kitchen.
For more info please contact:
St Moritz Hotel
Trebetherick
Wadebridge
Cornwall
PL27 6SD
Tel: 01208 862242
Fax: 01208 862246
E-mail: stay@stmoritzhotel.co.uk
** Remember to take your own sling! ** Most accommodation providers do not provide you with a sling for hygiene reasons so remember to take along your own and be comfortable in something you are used to. Most slings are'universal' fitting but if you are not sure please contact the accommodation provider.
Have you stayed here?
If you have stayed here why not write a review for CHuC and share your experiences, good or bad, with other hoist users?
Write a review using the
form below

. There is no need to register but all reviews are moderated before being published

Reviews for St Moritz Hotel
Name: Paul
Date of visit: 06/18
We recently stayed here in one of their adapted suites. That means you get a full kitchen (fridge freezer, hob, microwave, dishwasher etc), lounge area with tv, conservatory with seating and a dining table and chairs (for 6).
The bedroom has a ceiling track hoist, which can take someone through to the toilet. The toilet was a clos-o-mat cleaning toilet which could be adjusted for height using a remote control. It wasn't a wet room but you could place someone in the bath (with shower over) using the ceiling track hoist which had a clever system to allow it to change direction. The sink was lowered as were some of the units in the kitchen.
The bed was not a profiling bed but was at a reasonable height and firmness. You could have put a portable hoist under the bed, but we had no need.
The hotel is excellent, good eating options and bars, an indoor and outdoor (heated) pool. Excellent location to explore the area. All the staff were very helpful. In terms of price it was around double the price of their cheapest twin room and will clearly depend on when you go.
They do have other adapted rooms without the ceiling track hoist and other extras you get in a suite and I had to call to make my booking, they were very efficient and helpful on the phone.
This is the best adapted facility we have stayed in.
Name: Jill
Date of visit: 03/19
Lovely hotel. Disabled suite of rooms is beautiful and practical. Staff are friendly and helpful. Hoist excellent and WC / shower an added bonus. Thank goodness for this website as this is where I found out about St Moritz hotel.
---