Sadly, Sue passed away in May 2008 but here are her thoughts and reasons for setting up this website.
Hi, I'm Sue Maynard Campbell and I have been a ceiling track hoist user since the early 1960s. My first hoist, which still hangs in my garage, was designed for lifting engines out of cars! Things have moved on since then, thank goodness.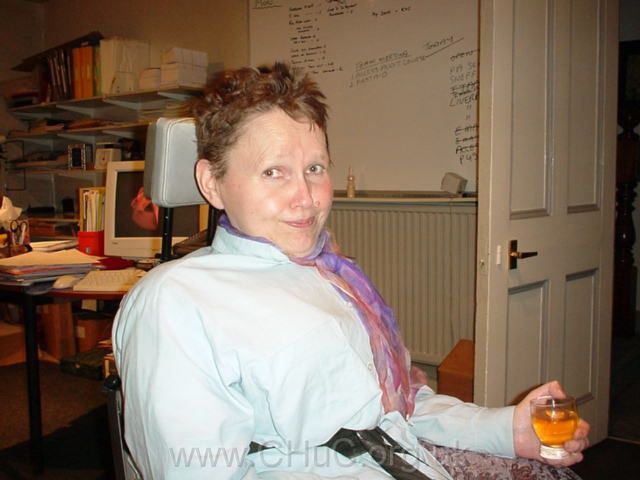 I am a qualified solicitor but I now run a disability consultancy in the UK called Equal Ability CIC. For years I have had great difficulty trying to operate the business from Yorkshire, when a great deal of work happens in London, at least two hours away on the train. Last year I managed to persuade the Intercontinental Hotel Group (IHG) to install ceiling track hoists as a trial in two hotels in London and one at Heathrow. Since then my business (and leisure) life has been revolutionised and I am beginning to feel I have more of the freedoms my non-disabled peers have. The good news is IHG has found the business case for the hoist installation to have been met and the hoists will remain. More are hopefully on their way but we still need to make sure the demand is there.
I have four reasons for setting up CHuC as an Equal Ability CIC community project:
To let other ceiling track hoist users know about the new facilities and when more come on line.
To build up a strong business case backed by support from people who need these facilities worldwide, to encourage others to install hoists in their accommodation.
To gather what little information there is on accommodation offering ceiling track hoists as an easily accessible resource for individuals and for organisations wishing, for instance, to book accessible venues for their events.
To provide a "meeting place" for those of use who use ceiling track hoists to share information and experiences and widen the campaign for more hoists.
If you are a ceiling track hoist user, anywhere in the world, please get in touch and tell us where you go – or where you want to go!