The De Vere Orchard Hotel
Nottingham University Campus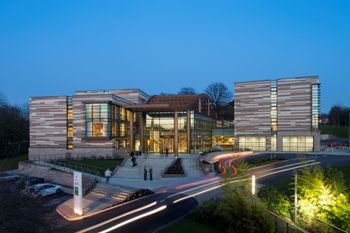 The new De Vere Orchard Hotel opened on 6th November. It is located on the Nottingham University Campus adjacent to the East Midlands Conference Centre and has 5 accessible rooms, one of which is fitted with a ceiling hoist. The 202 bed eco-friendly hotel is just 2 miles from Nottingham City Centre and just 4 miles from the M1 motorway.
All rooms can be booked either by calling 0844 346 1216, emailing emcc@deverevenues.co.uk
or by visiting the website at www.phcompany.com/de-vere/orchard
Click on the photo above to view a larger image
The ceiling hoist installed by Prism Medical (Movement2 Division) is split into separate components in the bedroom and bathroom due to the varying ceiling heights and services within the false ceiling. It was unfortunately not possible to make the track continuous from one room to the other but there are fixed ceiling track hoists in both rooms, so unlike some other hotels there is no need to physically transfer a transportable hoist and these have powered traverse too.
The track in the bedroom covers the full width of the bed and curves around to one side to give a good choice of transfer point from chair to hoist. The bathroom is an H track which gives access to anywhere in the room. Both rooms are equipped with Freeway T200M hoists (200Kg SWL) and there is a 19" wide Freeway T40 shower/commode chair should you prefer to use that.
** Remember to take your own sling! ** Most accommodation providers do not provide you with a sling for hygiene reasons so remember to take along your own and be comfortable in something you are used to. Most slings are'universal' fitting but if you are not sure please contact the accommodation provider.
Have you stayed here?
If you have stayed here why not write a review for CHuC and share your experiences, good or bad, with other hoist users?
Write a review using the
form below

. There is no need to register but all reviews are moderated before being published

Submit a review

Submit a review of accommodation listed on CHuC
Reviews for De Vere Orchard Hotel
Name: Rafael
Date of visit: 05/18
This beautiful, eco-friendly hotel has a stunning setting. There's ample accessible parking (make sure you park at the top of the hill if you don't want to wheel/make your Personal Assistant trundle your stuff up it!) and the space inside was very generous.
Beware though: the bed in the room with the hoist is a double which CANNOT be separated, or moved at all, and despite the fact that people with lower access needs are free to book a twin room, there is no interest in giving a hoist user that equality of service. They do have a Z-bed on wheels but will only hand it over under protest as it's not robust enough for very heavy adults, so they want to limit it's use to under-12s. My PA tells me it's actually perfectly comfy!
Name: Grace
Date of visit: 02/19
Fantastic place to stay! We don't live too far and as a young couple, enjoy some time away from family and in a double bed for a change. This is our home away from home! We tend to stay here on special occasions, a few times a year over the last 4 years. We can't fault it! 2 hoists - one for bedroom, one for bathroom. Surprisingly it's the same ceiling hoist that we use at home which makes things easier. There are various sling sizes in the wardrobe but we do bring our own. The staff can't do more for you, very attentive. They are happy to extend check out times by 2-3 hours for no charge so that we have ample time for our morning routine. Breakfast is amazing! As a coeliac, they cater well for gluten free. We're going again next week to celebrate Valentines Day.