Scotland - Perthshire - Crieff
Crieff Hydro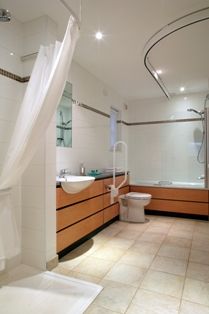 Crieff Hydro is home to 52 self catering units, one of which has been specially designed to meet Visitscotland's grade 1 accessibility standards. Arguably the most comprehensive family resort in Scotland, 4 star Crieff Hydro is centrally located in its own 900 acre estate. Offering over 40 onsite activities and inclusive daily childcare for 2-12 year olds, the recently redeveloped resort is only an hour's drive from both Glasgow and Edinburgh.
Culcrieff self catering village at Crieff Hydro. A rural idyll, Culcrieff is a recreation of the original farm steading enjoying stunning Perthshire views while still having the benefit of access to the diverse entertainment, leisure and sporting amenities of the Crieff Hydro Hotel and resort.
Abercairny Cottage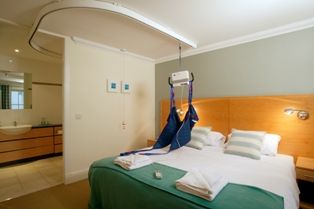 Located near the Golf Course, Abercairney Cottage is five-star self-catering accommodation that meets Visit Scotland's Grade 1 accessibility standards. Wheelchair users have comfortable access to all public spaces, including the open-plan living area and outdoor deck. There is one wheelchair-accessible en-suite bedroom, with a hoist to aid travel from bed to bathroom.
For more info please contact:
Crieff Hydro
Strathearn House
Ferntower Road
Crieff
Perthshire
PH7 3LQ
Tel: 01764 655555
Web: www.crieffhydro.com
Click on any image to view a larger photo
Remember to take your own sling. Sometimes the accommodation will have a sling available but for your own comfort and hygiene it is best to use your own.
Have you stayed here?
If you have stayed here why not write a review and send it to CHuC and share your experiences, good or bad, with other hoist users?