Scotland - Perthshire
Crieff Hydro is home to 52 self catering units, one of which has been specially designed to meet Visitscotland's grade 1 accessibility standards. Arguably the most comprehensive family resort in Scotland, 4 star Crieff Hydro is centrally located in its own 900 acre estate. Offering over 40 onsite activities and inclusive daily childcare for 2-12 year olds, the recently redeveloped resort is only an hour's drive from both Glasgow and Edinburgh.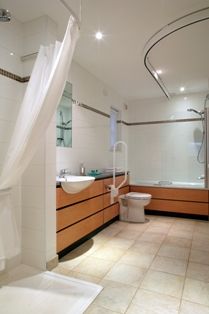 Culcrieff self catering village at Crieff Hydro. A rural idyll, Culcrieff is a recreation of the original farm steading enjoying stunning Perthshire views while still having the benefit of access to the diverse entertainment, leisure and sporting amenities of the Crieff Hydro Hotel and resort.

Abercairny Cottage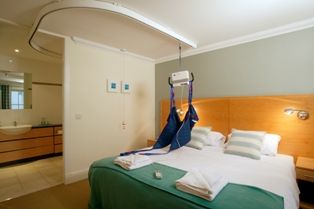 Wheelchair access to all public rooms, deck and one en-suite bedroom. To ensure guests enjoy maximum independence, a ceiling track hoist aids travel from bed to bathroom.