North East - North Yorkshire - Filey
Bempton Holiday Villa
The Wilf Ward Trust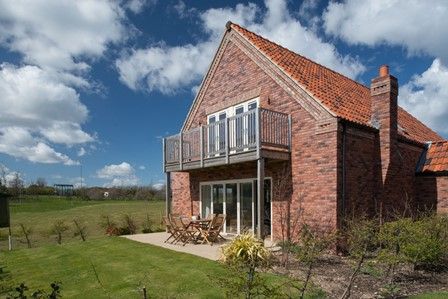 The Wilf Ward Family Trust's 5 bedroom Bempton Holiday Villa at The Bay Filey is carefully adapted to cater for the needs of all visitors. Built to the highest specification, including wheelchair accessible bedrooms, 2 with ceiling tracking and hoists, leading to en-suite wet rooms with shower tables. The accommodation has a through floor lift to ensure full access to the whole of the property and will feature the very latest Care Assist wireless support giving complete peace of mind for both users and carers alike. The Bay boasts a spacious development of wide boulevards and mews style cul-de-sacs that feature attractive properties reflecting the elegance of a traditional seaside village. There is also a bistro pub, a coffee bar, convenience store, pharmacy and by early 2011 a leisure and pool complex with a disabled changing room and pool access is planned. The property itself has been designed by acclaimed architects and is built to the highest standards, making use of natural light and space and providing modern amenities whilst retaining traditional interior values.
Bempton Holiday Villa can accommodate up to 8 guests with five bedrooms consisting of 1 double bedroom, 2 twin bedrooms, 2 specialist bedrooms each with a fully profiling bed, ceiling tracking and hoist leading to an en-suite wet room with shower table and shower chair. There is also a family bathroom.
The kitchen, dining and lounge area is open plan with bi-fold doors looking out on to woodland and a small lake. Bempton Holiday Villa also has a through floor lift, giving wheelchair access to the upper floor. There are TVs in the lounge and all bedrooms, as well as an iPod Docking Station in the double bedroom. The kitchen is fully equipped with induction hob, oven, microwave, dishwasher, washing machine and tumble drier and a large quantity of crockery, glassware and cooking utensils. There is garden furniture for you to sit and enjoy the views from your patio.
Attractions
Being able to escape to the seaside is everyone's dream. So imagine being able to spend a relaxing break amongst peaceful parkland, woodland and meadows with private access to almost half a mile of beautiful beach, safe in the knowledge that every need has been taken care of. You will find a selection of brochures and leaflets in your welcome pack. Discount vouchers and other useful information are also provided.
Web: www.bemptonholidays.co.uk/bempton-villa
For more information please contact:
Wilf Ward Family Trust
Bempton Holidays Team
The Wilfward Family Trust
Cayley Court
Hopper Hill Road
Scarborough YO11 3YJ
Telephone 0845 605 0371
Email: bemptonholidays@wilfward.org.uk
Click on any image to view a larger photo
** Remember to take your own sling! ** Most accommodation providers do not provide you with a sling for hygiene reasons so remember to take along your own and be comfortable in something you are used to. Most slings are'universal' fitting but if you are not sure please contact the accommodation provider.
Have you stayed here?
If you have stayed here why not write a review for CHuC and share your experiences, good or bad, with other hoist users?
Write a review using the
form below

. There is no need to register but all reviews are moderated before being published

Submit a review

Submit a review of accommodation listed on CHuC